Bahrain and Turkey sign MoU to strengthen start-up collaboration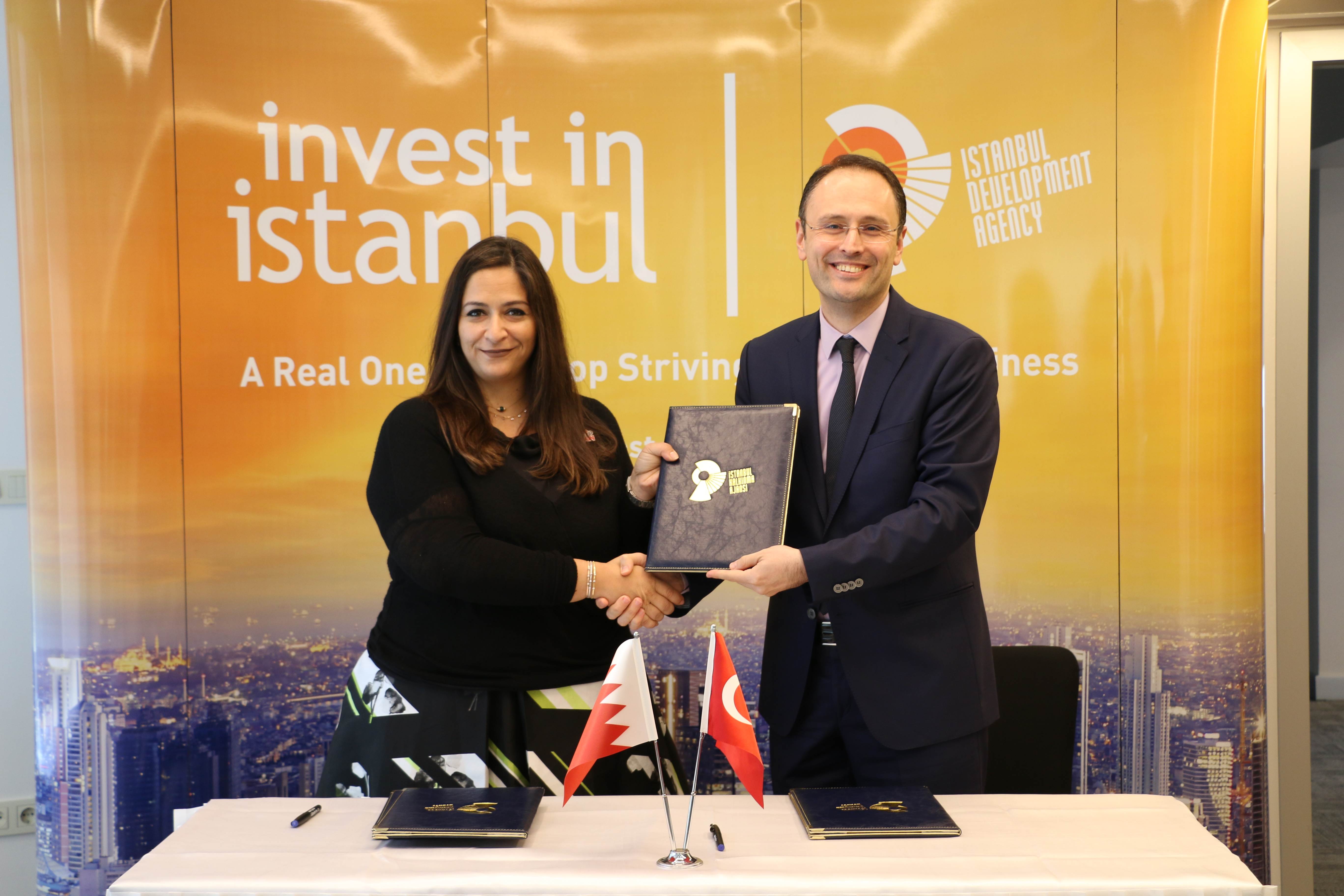 Istanbul Development Agency's (IDA) brand new office, Invest in Istanbul, signed a Memorandum of Understanding (MoU) with the Bahrain Economic Development Board (EDB), the investment promotion arm of Kingdom of Bahrain, for cooperation on the development of start-up ecosystems in their respective countries. The MoU was signed by Pakiza Abdulrahman, Manager of Business Development - Startup at the EDB and Fatih Piskin, Acting Secretary General of IDA.
Seeking to build on the growing innovation landscape in Turkey and Bahrain, the new agreement offers a platform for entrepreneurs to network, collaborate and scale their businesses on a regional level. Accordingly, the areas of cooperation between the two entities would include the provision of co-working spaces, logistics support, access to the wider startup ecosystem line mentorship, talent, funding, and potential partners. Additionally, the MoU looks at other business set-up services to ensure a smooth transition for start-ups between both markets.
Mr. Fatih Piskin, Acting Secretary General of Istanbul Development Agency said: "From now on, investment promotion agencies become partners rather than rivals. We are today signing an MoU, which is based on concrete and tangible grounds. In this respect, we will be honored to welcome Bahraini entrepreneurs in Istanbul; then, provide invaluable services in order to make a smooth landing and transition in their new destination. Our goal is to mutually increase the volume of projects and certainly FDI."
Over the past 15 years, Istanbul's economy has experienced rapid structural change. Istanbul's defining economic role has evolved from a service center to a dynamic urban center with strong, multi-faceted international connections that have strengthened dramatically with the rise of Turkey's broad vision. The economy is now highly diversified thanks to strengths in many new areas including significant clusters in knowledge-based sectors. Entrepreneurial activity is a crucial measure for Turkey as the country aims for a transition from an efficiency-driven economy to being an innovation-driven economy. Istanbul is, without question, a tantalizing market for entrepreneurship. 
Ms. Pakiza Abdulrahman, Manager of Business Development - Startup at the EDB said: "We are excited to partner with the Istanbul Development Agency to facilitate greater collaboration between start-ups and innovators in Bahrain and Turkey. Both our countries have invested heavily in developing infrastructure that is essential for start-ups to grow and succeed. Global expansion is integral to this journey. By paving the way for the exchange of ideas, resources and growth opportunities between entrepreneurs, we stand to benefit from more trade and investment that is mutually beneficial for our economies."
The MoU is in line with the EDB's aims of exploring global networks for the promotion and development of entrepreneurship in the Kingdom. Similar to Bahrain, start-up activity in Turkey has expanded rapidly in recent years. As a gateway market to the $1.5 trillion GCC economy, Bahrain offers the ideal launch pad for start-ups looking to enter the region. The country provides a positive regulatory environment for global investors and entrepreneurs, including reforms such as bankruptcy law, data protection laws, and 100 percent foreign ownership in the majority of sectors. The Kingdom also boasts the lowest cost of doing business in the region, at up to 40 percent less than neighboring cities. Consequently, Bahrain has seen international start-ups grow by 100 percent between 2016 and 2018.
For more information, please contact:
Invest in Istanbul
Phone: +90 212 468 3400
E-mail: info@invest.istanbul 
Bahrain Economic Development Board
Phone: +973-17-589972
E-mail: internationalmedia@bahrainedb.com